Consumer attention span has decreased by 25% from the early 2000s to recent years.
People are now exposed to distractions and constant notifications, making it difficult to focus on one thing at a time. And this challenges marketers who strive to hold consumers' attention for as long as possible.
Capturing the audience's attention is critical for brands. It directly correlates to the chance of a brand being remembered by customers.
So, what can you do to boost customer attention span, and where should you focus your marketing effort?
Let's dive into it.
Marketing Budget Allocation That Doesn't Deliver
Marketing mediums aren't made equal. Most platforms brands choose to invest in don't deliver the desired results.
For instance, ads need to meet the minimum 2.5 seconds memory threshold to start activating consumer attention; however, over 85% of ads fail to accomplish that, according to the data presented by Amplified Intelligence.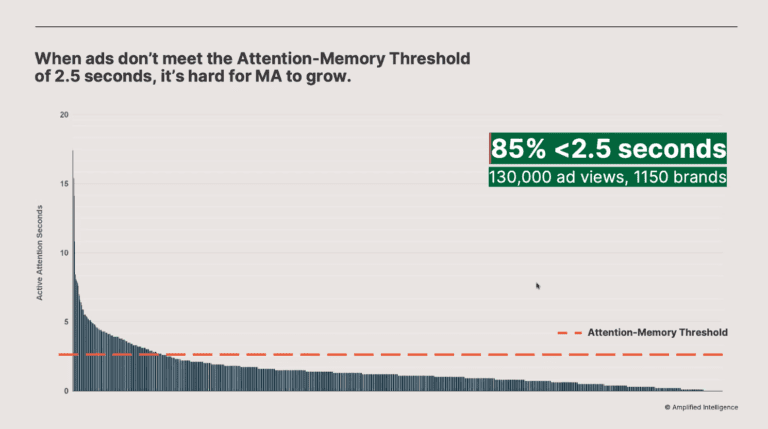 What's worse, companies are squandering money on ineffective mediums that fail to strengthen mental availability—the power of memory structures that guarantee a brand is remembered at the time of purchase.
Lower mental availability means poor brand awareness and fewer sales. This ultimately leads to decreasing the influence of your brand and shrinking market share.
But can anything be done to fix the situation? Sure thing. Here are five suggestions for grabbing the attention of prospective buyers.
Five Tips on How to Increase Attention Span in Marketing
Everybody loves a good story, and in marketing, it helps to uniquely pique the audience's attention, increasing customer engagement with the brand and driving conversions.
People don't remember complex numbers and facts but always remember a good story; thus, consider a storytelling element in your marketing strategy.
2. Communicate Your Crystal Clear Value Proposition
You've only got a couple of seconds to win consumer attention, so make sure your marketing message and value proposition are both super clear and concise. After all, if your target audience doesn't perceive the value in what you're offering, they won't give your brand any attention.
3. Invest in Emotional Marketing
96% of consumers don't trust ads—they feel rather impersonal and invasive.
Emotions can genuinely capture an audience's attention, and photos provide the means to create a powerful emotional response.
Solutions like Stampix offer end-to-end marketing campaigns for brands seeing a decline in ROI from traditional advertising. With Stampix's Photo Rewards, you can offer your customers personal photos with your branding on reverse, printed and delivered for free.
The truth is that a photo always sparks a conversation and elicits positive emotions, which you can leverage to build strong brand associations and hold the attention for a whopping 10 seconds or more!
As an added bonus, Stampix photos will hang in the living spaces for up to 2 years, increasing brand memorability.
4. Personalise Your Marketing Message
Bombarding your audience with hundreds of ads could be a rookie mistake, leading to a desensitised response. Tailor your message to different demographics and consumer segments to convince them that you've got a product they need.
5. Determine Which Platform Works Best
Last but not least, data suggests that media placement dominates the creative. So even with a killer design, it is crucial to leverage the platform(s) with the highest propensity to increase consumer attention span.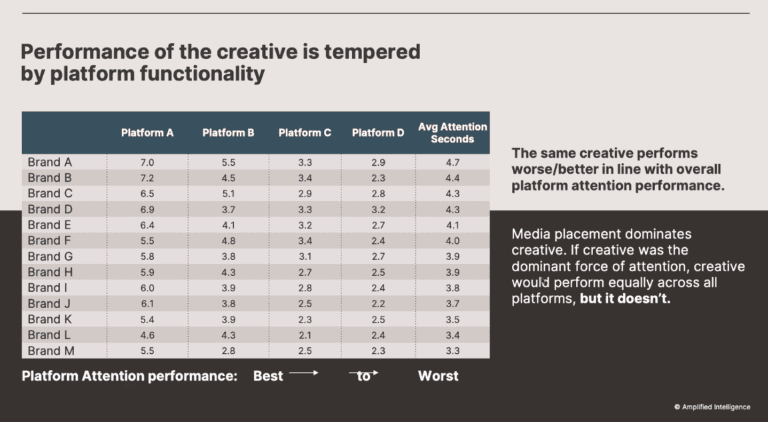 If you don't get in front of your target audience and keep them engaged, your battle might be already lost.
Stampix can help you capture attention and strengthen your customers' emotional connection with your brand, in a way that no other online ad can.
Order a discovery box now and
experience photo rewards yourself