With retail businesses entering the Golden Quarter, marketers are in the quest for high-impact end-of-year (EOY) campaigns. Cutting through the noise isn't that easy, though.
Instinctively you might be thinking about starting a digital EOY campaign, whether on social media or via email marketing. But think twice! With so many other businesses doing the same thing, chances are your promotional emails will get buried in customers' inboxes.
However, print marketing can help you stand out from the crowd and reach customers on an emotional and highly personalised level.
Want to know how? Continue reading until the end.
The Current Power of Print Advertising
Printing advertising is experiencing a real resurgence, outperforming other popular marketing mediums. Statistics reveal that direct mail response rates are 5 to 9 times higher than any other marketing channel.
Moreover, print works well with millennials – the most powerful (and sceptical) consumer segment.
According to UPS, 85% of millennials respond favourably to direct mail, and 52% are more likely to purchase from a company that uses both print and digital promotional channels.
So, you might be wondering why print is so appealing.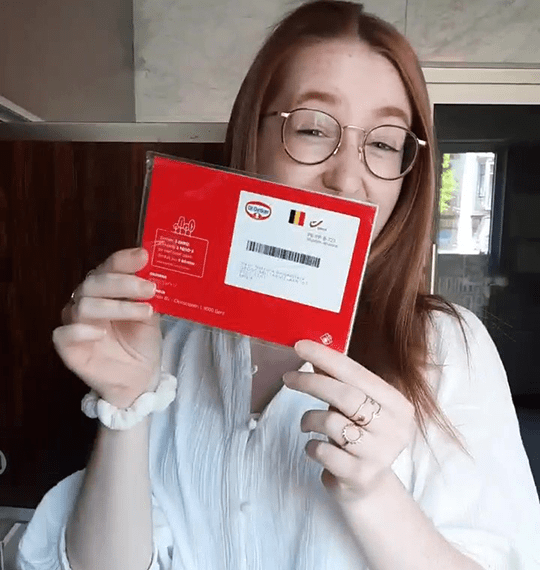 The Relevance of Pictures for EOY

With many printed marketing tools to choose from, personalised printed photos have the highest propensity to impact your EOY marketing campaign. How come?
It's because people traditionally take lots of pictures during the holiday season, capturing emotions they feel or want to feel. Thus, marketers are presented with a perfect opportunity to engage customers via printed photos that have the power to win people's hearts and influence purchase decisions.
Over 80% of people across different age groups store and hold onto physical photographs due to their sentimental value and strong resemblance to joyful memories.
Leveraging photos to engage customers via an emotional medium can surprise your audience and create buzz around your brand – a perfect strategy to stand out among other EOY campaigns.
Ideas for Leveraging the Power of Print on Photo Rewards
🤳Social Media Campaigns to Inspire Togetherness
The fusion between social media and print campaigns can do wonders for your brand.
Start a social media year-end campaign (for example, a festive photo competition) to activate your customers and invite them to print their most festive photos for free. This way, you can not only win customers' attention online but also remain long in their memory through the power of printed media.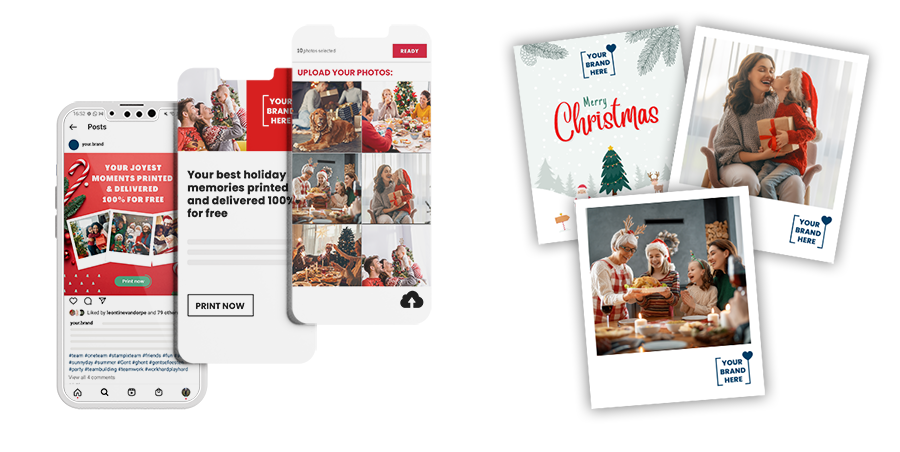 🎁 Reward Your Existing Customers as a Surprise and Delight
Don't leave your current customers during the festive season behind! You've earned their loyalty, but loyalty is not permanent, so you need to show appreciation and reward them in a unique and emotional way, too.
So rather than simply sending some Christmas discount codes or vouchers, send them a printed personal photo with your branding and discount code on reverse, and get them hooked on your brand for years to come.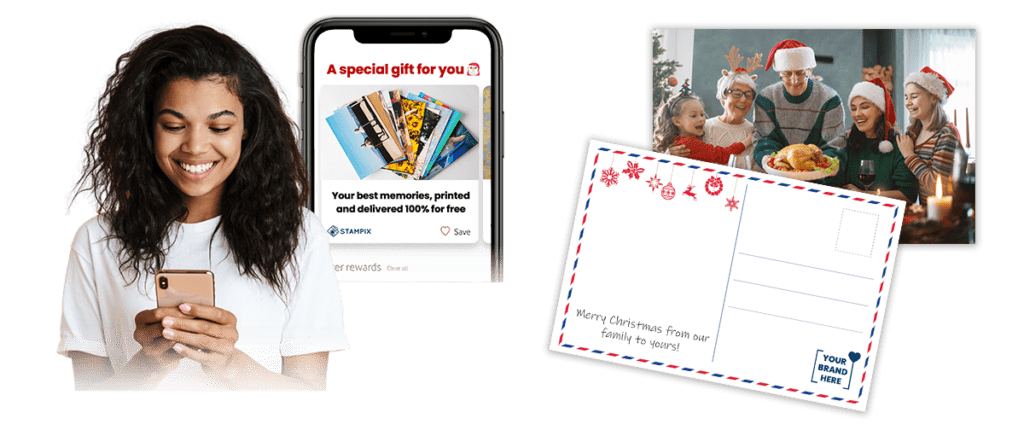 EOY direct mail campaigns designed to evoke emotional connection can multiply sales and engagement during the holiday season like no other medium can. Don't waste this opportunity and tap into the power of Stampix's Photo Rewards!
Let us show you all the possibilities for your
next out-of-the-box EOY campaign