Marketing Insights
by Charles Ehredt
Why Engaging with Your Frequent Customers is no longer enough
Business owners prize their frequent customers. After all, regardless of more competitors or better prices elsewhere, they would most likely choose your business over others. As such, businesses feel obligated to centre their loyalty programs around their regular buyers.
But according to Charles Ehredt, CEO of Currency Alliance and an angel investor with nearly 35 years helping businesses in sales channel development, he thinks loyalty programs can expand further. To Charles, loyalty programs should consider both frequent buyers and the not-so frequent buyers, known as mid-tail/long-tail customers.
The Focus on Mid-tail/long-tail Customers
According to Charles, mid-tail and long-tail customers are the groups of consumers who use your services less frequently, like once a month or a few times a year. Perhaps they have low spending money or don't find it necessary to use your services all the time.
For these reasons, businesses don't think mid-tail and long-tail buyers are worth catering a loyalty program to. Instead, nearly all loyalty programs only focus on regularly visiting buyers. For example, the point system in loyalty programs requires you to accumulate a lot of points (which comes with frequent shopping) to redeem anything. As such, mid-tail and long-tail customers have nothing to entice them to join the loyalty program.
But let's look at the stats – while frequent customers generate 40-50% of your profits, the other 50% is largely due to the mid-tail and long-tail customers. To Charles, businesses are missing a great opportunity.
With nothing in place to entice mid-tail and long-tail buyers to join a loyalty program, businesses forfeit data collection on this group. And with personalization more important now than ever, businesses cannot keep up with the demands of the market.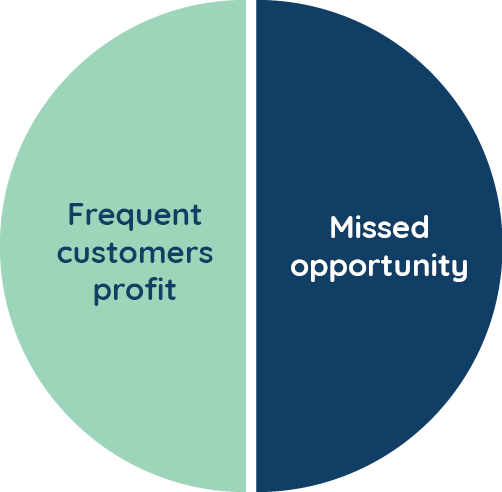 Expanding Your Loyalty Program
So what's the solution here? For Charles, this requires businesses to expand their loyalty programs to include mid-tail and long-tail customers. The focus should shift from solely rewarding frequent customers to rewarding all customers with scalable and personalised solutions.
Developing a customer-centric approach to loyalty programs allows brands to build a point system that caters to mid-tail and long-tail buyers. Charles suggests one way to do this is by forming a brand ecosystem. This involves multiple brands collaborating and allowing customers to collect different loyalty rewards from various brands and stores. While it can be difficult, the option allows for greater flexibility in collecting rewards for consumers.
Improving Loyalty Programs - The Metrics
If businesses want to innovate and grow their loyalty programs, the answer lies in the data. For Charles, the most effective method in understanding your consumer is to look at their activity levels. For example, how much are they mentioning you on their social media? How frequently do they buy from you? From this data, you can then personalise and build a stronger loyalty program that caters to every buyer, regulars and the mid-tail/long-tail.
As Charles emphasizes, the future for businesses involves establishing loyalty programs and rewards that consider every consumer. The more you entice the mid-tail and long-tail consumer, the more benefits you'll reap in the end.
This post is part of the #Loyalty Expert Talks, a Stampix original series: 20 minutes live chats with real stories and insights from the world's finest retention & loyalty marketers.